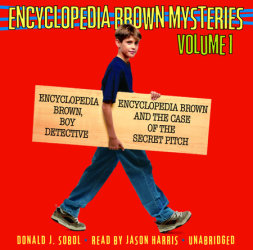 Encyclopedia Brown Mysteries, Volume 1
Boy Detective; The Case of the Secret Pitch
Imprint: Listening Library
Grades: Grades 3-7
Ages: 8-12 years
Release Date: October 10, 2006
2 Hours and 15 Minutes
List Price: $19.55
ISBN: 9780739349700
This volume includes:

Encyclopedia Brown, Boy Detective and The Case of the Secret Pitch – two collections of mysteries that Encyclopedia Brown must solve by using his famous computerlike brain.

A cross-eyed baseball pitch...

A kid-lover tumed kidnapper...

A watermelon stabbing...

A trapeze artist's inheritance...

These are just some of the brain-twisters included. Try to crack the cases along with him--the answers to all the mysteries are found in the back!