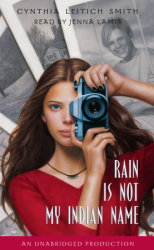 Rain is Not My Indian Name
Imprint: Listening Library
Grades: Grades 3-7
Ages: 8-12 years
Release Date: August 26, 2008
3 Hours and 17 Minutes
List Price: $25.50
ISBN: 9780739380192
Read by Jenna Lamia
Approx. 3 hours
2 cassettes

It's been six months since Rain's best friend Galen died, and up until now she has succeeded in shutting herself off from the world. But when controversy arises around her aunt Georgia's Indian Camp in their mostly white midwestern community, Rain decides to face the outside world again—at least through the lens of her camera.

Hired by her town newspaper to photograph the campers, Rain soon finds that she has to decide how involved she wants to become in Indian Camp. Does she want to keep a professional distance from the intertribal community she belongs to? And just how willing is she to connect with the campers after her great loss?

In a voice that resonates with insight and humor, Cynthia Leitich Smith tells of heartbreak, recovery, and reclaiming your place in the world.