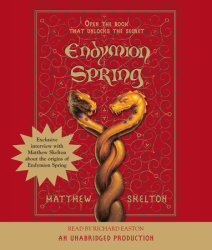 Endymion Spring
Imprint: Listening Library
Grades: Grade 7 & Up
Ages: 12 and up
Release Date: September 12, 2006
10 Hours and 9 Minutes
List Price: $51
ISBN: 9780739348338
"You've stumbled on to something much larger than you can possibly imagine."

In the dead of night, a cloaked figure drags a heavy box through snow-covered streets. The chest, covered in images of mythical beasts, can only be opened when the fangs of its serpent's-head clasp taste blood.

Centuries later, in an Oxford library, a boy touches a strange book and feels something pierce his finger. The volume is blank, wordless, but its paper has fine veins running through it and seems to quiver, as if it's alive. Words begin to appear on the page--words no one but the boy can see.

And so unfolds a timeless secret . . . .