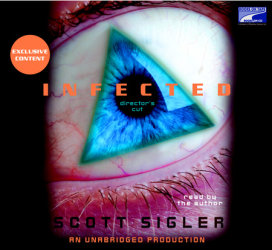 Infected
A Novel
Imprint: Books on Tape
Genre: Fiction - Science Fiction - Alien Contact

Release Date: April 29, 2008
11 Hours and 25 Minutes
List Price: $76
ISBN: 9781415949535
This is the "Director's Cut" of INFECTED, including 22 pages of scenes that are not included in the print edition or in the podcast. The twisted journey of Kiet Nguyen, the sad story of the Hester family, and the disastrous arrogance of Dr. Frank Cheng add depth and texture to INFECTED, as well as revealing shocking new scenes that will have you squirming in your seat and squinting your eyes tight as your ears succumb to a vivid picture of horror and pain.

Across America a mysterious disease is turning ordinary people into raving, paranoid murderers who inflict brutal horrors on strangers, themselves, and even their own families. Working under the government's shroud of secrecy, CIA operative Dew Phillips crisscrosses the country trying in vain to capture a live victim. With only decomposing corpses for clues, CDC epidemiologist Margaret Montoya races to analyze the science behind this deadly contagion. She discovers that these killers all have one thing in common–they've been contaminated by a bioengineered parasite. Meanwhile Perry Dawsey awakens one morning to find several mysterious welts growing on his body. Soon Perry finds himself acting and thinking strangely . . .  he is infected. The fate of the human race may well depend on the bloody war Perry must wage with his own body.

Internet phenom Scott Sigler gives us this cinematic, relentlessly paced novel that mixes and matches genres, combining horror, technothriller, and suspense. INFECTED will crawl beneath your skin and leave fresh blood at every turn.