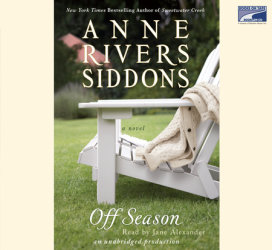 Off Season
Imprint: Books on Tape
Genre: Fiction - Women

Release Date: August 26, 2008
11 Hours and 25 Minutes
List Price: $95
ISBN: 9781415958865
For as long as she can remember, they were Cam and Lilly–happily married, totally in love with each other, parents of a beautiful family, and partners in life. Then, after decades of marriage, it ended as every great love story does...in loss.

After Cam's death, Lilly takes a solitary road trip to her and Cam's favorite spot on the wild coast of Maine, the place where they fell in love, and where their ghosts still dance. There she looks hard to her past–to the simple joys of childhood; to a first love that ended in tragedy; to falling in love with Cam; to a marriage filled with exuberance, sheer life, and safety–to try to make sense of her future. It is a journey that begins with tender memories and culminates in a revelation that will make Lilly reevaulate everything she thought was true about her husband and her marriage.

Beautifully rendered and deeply moving, OFF SEASON is a story about those simple truths that often elude us, even when they are in front of our eyes–and the hidden places of the heart that continually surprise us.