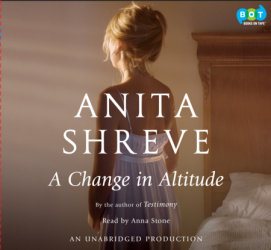 A Change in Altitude
Imprint: Books on Tape
Genre: Fiction - Thrillers - Psychological

Release Date: October 06, 2009
9 Hours and 18 Minutes
List Price: $76
ISBN: 9781415964187
Margaret and Patrick have been married just a few months when they set off on what they hope will be a great adventure–a year living in Kenya. While Patrick practices equatorial medicine, Margaret works as a photojournalist. Shuttling between tony expatriate suburbs and squalid shantytowns, Margaret quickly realizes there is a great deal she doesn't know about the complex mores of her new home, and about her own husband. 

A British couple invites the newlyweds to join them on a climbing expedition to Mount Kenya, and they eagerly agree. But during their harrowing ascent, the unthinkable happens. In a reckless moment, a horrific accident occurs, and a life is claimed. In the aftermath of the tragedy, Margaret struggles to understand what happened on the mountain and how these events have transformed her and her marriage, perhaps forever.

Revealing and intimate, A Change in Altitude illuminates the inner landscape of a couple, the irrevocable impact of tragedy, and the elusive nature of forgiveness.