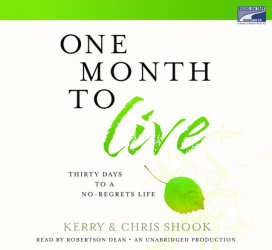 BOT Exclusive
One Month to Live
Thirty Days to a No-Regrets Life
Imprint: Books on Tape
Genre: Religion - Christian Living - General

Release Date: February 19, 2008
7 Hours and 16 Minutes
List Price: $76
ISBN: 9781415946268
Are you suffering from "someday" syndrome–always waiting for someday when your schedule calms down, your finances improve, or your kids grow up so you can begin to live the life you've always dreamed of? Consider how your perspective would change if you found out you had just thirty days to live. After the initial shock, you'd probably resolve to squeeze all you could out of the days that remain. You'd stop wasting precious time, and you'd throw yourself into becoming the person God intended you to be.

Why wait to answer the longings of your heart? You can live this way now, thriving in a life of passion and purpose. In ONE MONTH TO LIVE, Kerry and Chris show you how to stop waiting for "someday" and start making each day really matter. By taking their 30-Day Challenge, you'll learn what it means to make the most of your time on earth and live life with no regrets.

In ONE MONTH TO LIVE, learn the four principles for living a no-regrets life: Live Passionately (living each day as if it were your last); Love Completely (showing others love that transcends and transforms); Learn Humbly (growing through your problems and pain); and Leave Boldly (creating a legacy that will impact generations). ONE MONTH TO LIVE explores these universal principles and provides questions for reflection to help you examine the core areas of your life and ultimately live the life you were made for.