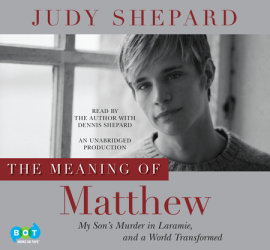 The Meaning of Matthew
Imprint: Books on Tape
Genre: Biography & Autobiography - LGBT

Release Date: September 03, 2009
5 Hours and 19 Minutes
List Price: $47.50
ISBN: 9781415965146
The mother of Matthew Shepard– a twenty-one-year-old victim of a brutal hate crime–shares personal stories about her son's life, the aftermath of his death, and the choice she made to honor his legacy by becoming an international gay rights activist.

Today the name Matthew Shepard is synonymous with gay rights, but for most of his life he was simply Judy Shepard's eldest son. In October 1998, one pivotal event in the small college town where her son lived would change the world forever.

Heart-wrenchingly honest, Judy Shepard describes how she handled the crippling loss of her child in the public eye and, eventually, came to realize that both she and Matthew–even in death–had a rare opportunity to prevent future intolerance and prejudice.