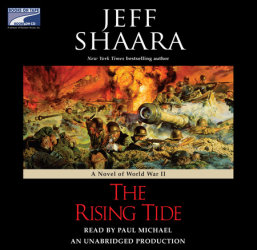 The Rising Tide
A Novel of World War II
Imprint: Books on Tape
Genre: Fiction - Historical - General

Release Date: November 07, 2006
22 Hours and 57 Minutes
List Price: $95
ISBN: 9780739346525
A modern master of the historical novel, Jeff Shaara has painted brilliant depictions of the Revolutionary War, the Civil War, and World War I. Now, The Rising Tide begins a staggering work of fiction bound to be a new generation's most poignant chronicle of World War II.

Through unforgettable battle scenes in the unforgiving deserts of North Africa, into the "soft underbelly" of Hitler's Fortress Europa, and as battles rage along the coasts of the Mediterranean, The Rising Tide is a vivid gallery of characters both immortal and unknown. From tank driver to paratrooper to the men who gave the commands, Shaara's stirring portrayals bring the heroic and the tragic to life in brilliant detail.

A new level of accomplishment from this already acclaimed author, The Rising Tide will leave listeners eager for the next volume of this superb saga of the war that saved and changed the world.