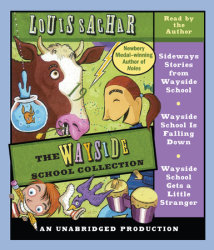 The Wayside School Collection
Sideways Stories from Wayside School; Wayside School is Falling Down; Wayside School Gets a Little Stranger
Imprint: Listening Library
Grades: Grades 3-7
Ages: 8-12 years
Release Date: November 25, 2008
8 Hours and 55 Minutes
List Price: $51
ISBN: 9780739368213
SIDEWAYS STORIES FROM WAYSIDE SCHOOL–You can imagine the confusion at Wayside School when the builder made a terrible mistake. Instead of building 30 classrooms side-by-side, he built them one on top of another. Maybe that accounts for the wacky goings-on in Mrs. Jewls' class. Where else will you find children being turned into apples, dead rats wearing raincoats, and little girls who try to sell their toes?

WAYSIDE SCHOOL IS FALLING DOWN– The teacher pushes the new computer out of the window–what's going on here? It's just a lesson on the laws of gravity. As the outrageous fun continues, the 29 children up on the 30th floor engage in one adventure after another, changing the school routine into something that is far from normal.

WAYSIDE SCHOOL GETS A LITTLE STANGER– It's been 243 days since Wayside School has been open for classes. It's taken that long to rid the place of all traces of the cows. When the students finally do return, you can bet all the craziness is back too, including a very strange counselor called Dr. Pickle who has a warped sense of humor. The really big surprises come when Mrs. Jewls leaves to have her baby and the kids get some wacky substitute teachers.