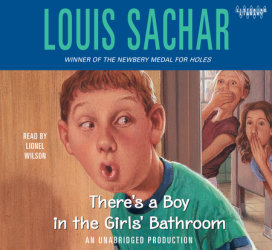 There's a Boy in the Girls' Bathroom
Imprint: Listening Library
Grades: Grades 3-7
Ages: 8-12 years
Release Date: March 10, 2009
4 Hours
List Price: $25.50
ISBN: 9780739372142
"Give me a dollar or I'll spit on you." 
 
That's Bradley Chalkers for you. He's the oldest kid in the fifth grade. He tells enormous lies. He picks fights with girls, and the teachers say he has serious behavior problems. No one likes him—except Carla, the new school counselor. She thinks Bradley is sensitive and generous, and she even enjoys his farfetched stories. Carla knows that Bradley could change, if only he weren't afraid to try.
 
But when you feel like the most hated kid in the whole school, believing in yourself can be the hardest thing in the world. . . .