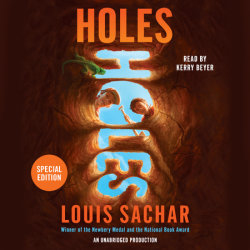 Holes
Imprint: Listening Library (Audio)
Grades: Grade 5 & Up
Ages: 10 and up
Release Date: June 27, 2006
4 Hours and 40 Minutes
List Price: $38
ISBN: 9780807286111
Categories:
Juvenile Fiction - Mysteries & Detective Stories, Juvenile Fiction - Action & Adventure - General, Juvenile Fiction - Social Themes - Friendship
Tags:
friendship, adventure, young adult, mystery, ya, camp, realistic fiction, children's, boys, holes, humor, family, treasure, children, digging, fantasy, desert, juvenile, texas, movie, children's literature, punishment, children's fiction, kids, buried treasure, survival, coming of age, magical realism, crime, friends
A miscarriage of justice sends Stanley Yelnats to a harsh juvenile detention center. While the warden claims that the hard labor that the boys are subjected to is meant to build character, it becomes clear that she is really using the boys to hunt for a fortune buried by a Wild West outlaw. The outlaw's story and a curse put on Stanley's great-great-grandfather are part of a compelling puzzle that has taken generations to unravel.