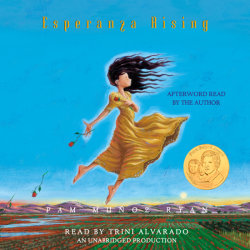 Esperanza Rising
Imprint: Listening Library
Grades: Grades 3-7
Ages: 8-12 years
Release Date: October 17, 2006
4 Hours and 42 Minutes
List Price: $25
ISBN: 9780739338964
Categories:
Juvenile Fiction - People & Places - United States - Hispanic & Latino, Juvenile Fiction - Social Themes - Poverty & Homelessness, Juvenile Fiction - Historical - United States - 20th Century
Tags:
mexico, historical fiction, family, immigration, great depression, california, multicultural, migrant workers, hispanic, poverty, ya, immigrants, death, realistic fiction, young adult, hope, mexican, coming of age, mexican americans, culture, growing up, loss, history, farming, children's, historical, mexican american, perseverance, diversity, children
Read by Trini Alvarado
Approx. 4.5 hours
3 cassettes

When Esperanza and Mama are forced to flee to the bountiful region of Aguascalientes, Mexico, to a Mexican farm labor camp in California, they must adjust to a life without fancy dresses adn servants they were accustomed to on Rancho de las Rosas. Now they must confront the challenges of hard work, acceptance by their own people, and economic difficulties brought on by the Great Depression. When Mama falls ill and a strike for better working conditions threatens to uproot their new life, Esperanza must relinquish her hold on the past learn to embrace a future ripe with the riches of family and community.