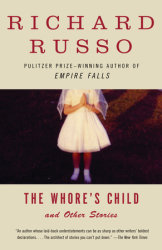 The Whore's Child
Stories
Imprint: Books on Tape
Genre: Fiction - Literary

Release Date: October 11, 2011
6 Hours and 47 Minutes
List Price: $57
ISBN: 9780307967435
To this irresistible debut collection of short stories, Richard Russo brings the same bittersweet wit, deep knowledge of human nature, and spellbinding narrative gifts that distinguish his best-selling novels. His themes are the imperfect bargains of marriage; the discoveries and disillusionments of childhood;the unwinnable battles men and women insist on fighting with the past.

A cynical Hollywood moviemaker confronts his dead wife's lover and abruptly realizes the depth of his own passion. As his parents' marriage disintegrates, a precocious fifth-grader distracts himself with meditations on baseball, spaghetti, and his place in the universe. And in the title story, an elderly nun enters a college creative writing class and plays havoc with its tidy notions of fact and fiction. The Whore's Child is further proof that Russo is one of the finest writers we have, unsparingly truthful yet hugely compassionate and capable of creating characters real that they seem to step off the page.

Look for Everybody's Fool, available now, and Somebody's Fool, coming soon.