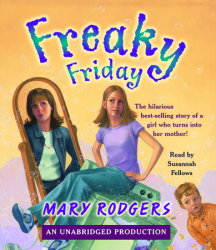 Freaky Friday
Imprint: Listening Library
Grades: Grades 3-7
Ages: 8-12 years
Release Date: January 23, 2007
3 Hours and 21 Minutes
List Price: $25.50
ISBN: 9780739355206
Read by Susannah Fellows
Two cassettes / 3 hours 21 mins.

It's one eye-opening (and hilarious) day for Annabel, who awakens one morning in her mother's body!  Annabel tries to cope with her mother's problems, plunging madly from one disaster to another.  At the end of the day Annabel has learned quite a few valuable lessons, not to mention the renewed respect she has gained for her mother.