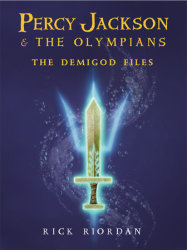 BOT Exclusive
Percy Jackson: The Demigod Files
Imprint: Listening Library
Grades: Grade 5 & Up
Ages: 10 and up
Release Date: May 12, 2009
3 Hours and 7 Minutes
List Price: $30
ISBN: 9780739381250
Categories:
Juvenile Fiction - Legends, Myths, Fables - Greek & Roman, Juvenile Fiction - Fantasy & Magic, Juvenile Fiction - Short Stories
Tags:
fantasy, mythology, percy jackson, short stories, ya, adventure, young adult, children, rick riordan, greek mythology, magic, juvenile fiction, action, gods, children's, juvenile, companion, demigods, teen, olympians
Young demigods, brace yourselves for a peak inside the highly classified Demigod Files! Compiled by Camp Half-Blood's senior scribe, Rick Riordan, these top secret archives include three of Percy Jackson's most perilous adventures and behind-the-scenes interviews with your favorite characters--Connor and Travis, Clarisse, Annabeth, Grover, and Percy.

Become an authority on Percy's world with this must-have guide to the Percy Jackson and the Olympians series.