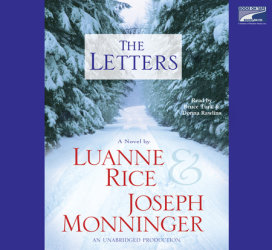 The Letters
A Novel
Imprint: Books on Tape
Genre: Fiction - Women

Release Date: October 07, 2008
5 Hours and 15 Minutes
List Price: $57
ISBN: 9781415959480
Is there any mystery greater than those we love the most?

In this remarkable collaboration, New York Times bestselling author Luanne Rice and Joseph Monninger combine their unique talents to create a powerfully moving novel of an estranged husband and wife through a series of searching, intimate letters. By way of a correspondence so achingly real you'll forget it's fiction, they trace the history of a love affair and of a family before, and after, the moment that changed the course of two people's journey forever.

Sam and Hadley West are both trying in their own ways to survive after the unthinkable loss of their only son in Alaska. For Sam, a sports journalist, acceptance means an arduous trek by dogsled across the bleak and beautiful arctic wilderness to find the place where Paul died. For Hadley, it means renting a benignly haunted, salt-soaked cottage off the Maine coast where she begins to paint again.

Now, at opposite ends of the country, waiting for their divorce to be finalized, they begin to exchange letters by post, missives filled with longing and truths they've never before voiced, as they recall their marriage—its magic moments and its challenges—and begin to rediscover the reasons they fell in love in the first place.

As Sam risks his life to reach the remote crash site, Hadley begins an equally hazardous inner journey to a rendezvous with the mad grief of a mother's heart. At the place where all else is lost, they will meet again….