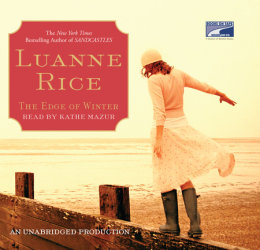 BOT Exclusive
The Edge of Winter
Imprint: Books on Tape
Genre: Fiction - Women

Release Date: February 20, 2007
12 Hours and 13 Minutes
List Price: $95
ISBN: 9781415936597
With her unmatched gift for illuminating the joys and challenges of love and family, New York Times bestselling author Luanne Rice now gives listeners a mesmerizing new novel that reaches back into the past to find the key to a boundless future.
Neve Halloran and her daughter share a fierce love for the austere beauty of Rhode Island's South County. Now, with Mickey a teenager and Neve's last hope for happiness with her daughter's loving but unstable father gone, both will struggle to make a new life together amid the windswept landscape that sustains them.
As winter gives way to spring, and spring to summer, a secret will emerge that has lain buried in the depths just offshore for decades, a secret that will galvanize the small seaside community. For the waters bear their own vestige of the past–and their ceaseless rhythms may point the way to hope and new beginnings.
Lyrical, luminous, and utterly captivating, THE EDGE OF WINTER is Luanne Rice at her most penetrating and insightful, in a moving exploration of the bonds that shape us and set us free.