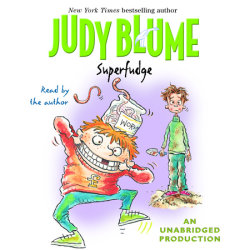 Superfudge
Imprint: Listening Library
Grades: Grades 3-7
Ages: 8-12 years
Release Date: June 27, 2006
3 Hours and 9 Minutes
List Price: $19.95
ISBN: 9780739356265
Categories:
Juvenile Fiction - Family - Siblings, Juvenile Fiction - Humorous Stories, Juvenile Fiction - Social Themes - Emotions & Feelings
Tags:
humor, judy blume, realistic fiction, siblings, family, children's, children, fudge, brothers, funny, juvenile, kids, moving, young adult, children's literature, children's fiction, juvenile fiction, childhood, sibling rivalry, ya, school, comedy, realistic, new baby, children's book, children's books, growing up, american, babies, friendship
Sometimes life in the Hatcher household is enough to make twelve-year-old Peter think about running away. His worst problem is still his younger brother, Fudge, who hasn't changed a bit since his crazy capers in Tales of a Fourth Grade Nothing. If you ask Peter, Fudge is just an older — and bigger — pain.

Then Peter learns that his mom is going to have a baby and the whole family is moving to Princeton for a year. It will be bad enough starting sixth grade in a strange place and going to the same school as Fudge. But Peter can imagine something even worse. How will he ever survive if the new baby is a carbon copy of Fudge?