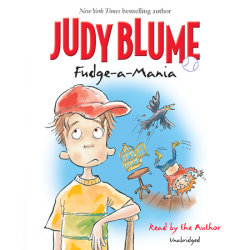 Fudge-A-Mania
Imprint: Listening Library
Grades: Grades 3-7
Ages: 8-12 years
Release Date: January 29, 2008
2 Hours and 49 Minutes
List Price: $19.95
ISBN: 9780739356272
Categories:
Juvenile Fiction - Family - Siblings, Juvenile Fiction - Humorous Stories, Juvenile Fiction - Social Themes - General (See Also Headings Under Family)
Tags:
judy blume, humor, realistic fiction, family, siblings, children, children's, fudge, brothers, juvenile, funny, kids, children's literature, comedy, sibling rivalry, summer, vacation, young adult, ya, junior fiction, children's fiction, juvenile fiction, maine, elementary, friendship, youth, humorous, american, rl 4.6, school
Peter Hatcher's summer is not looking good.

First of all, Peter's brother Fudge -- the five-year-old human hurricane -- has a plan: to marry Peter's sworn enemy, Sheila Tubman. Disgusting! Could anything be worse?

Yes. Peter's parents have decided to rent a summer house next, door to the Tubman's. Which means Peter will be stuck with Fudge and Sheila the Cootie Queen for three whole weeks!

Will Peter be able to survive the summer? It may not be the vacation of Peter's dreams, but, as millions of Judy Blume fans know, it won't be dull. When Fudge is around, anything can happen... and does!