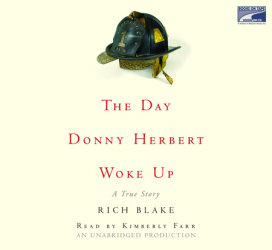 BOT Exclusive
The Day Donny Herbert Woke Up
A True Story
Imprint: Books on Tape
Genre: Biography & Autobiography - Medical (incl. Patients)

Release Date: November 27, 2007
6 Hours and 14 Minutes
List Price: $76
ISBN: 9781415942178
Donny Herbert was a hardworking Buffalo city firefighter who, in December 1995, was searching the attic of a burning house when the snow-laden roof collapsed. For six minutes he was without oxygen. A beloved husband, a father of four boys, Donny fell into a vegetative state that lasted nearly a decade. He was, for all practical purposes, gone. Until one day, in April 2005, when he woke up and spoke almost nonstop to his family and loved ones for nearly eighteen hours.

Here is the story of this remarkable moment, which was covered by the press worldwide. For his wife, Linda, it was a miracle. For his doctors and nurses, it was a medical mystery. For his sons–including his youngest, with whom he had never before had a conversation–it was a blessing. After his remarkable day, Donny Herbert fell into a deep sleep and never experienced a comparable moment of clarity. He died, in February 2006, from pneumonia.

Written by Linda's cousin, THE DAY DONNY HERBERT WOKE UP makes the listener wonder: What brought Donny back? More than anything, Linda credits Donny himself–a man with the strength to will himself back into his family's lives, if only to remind them one last time of how very much he loved them. This is as much Linda's story–one of perseverance and faith–as it is of a remarkable husband, father, and firefighter.