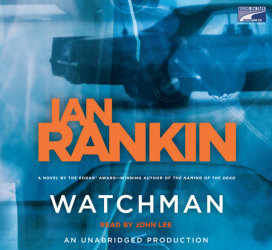 BOT Exclusive
Watchman
Imprint: Books on Tape
Genre: Fiction - Thrillers - Espionage

Release Date: December 11, 2007
8 Hours and 2 Minutes
List Price: $76
ISBN: 9781415947340
Miles Flint is a government spy who has been making some serious mistakes. His last assignment led to the death of a foreign official in London, and after getting too close to his current subject, he wound up in police custody. But something is wrong at the agency that has nothing to do with Miles's errors. Why did his last suspect know more about Miles's assignment than Miles did? Why have so many operatives recently resigned? Has the agency hired someone to watch him?

Despite the Director's assurances, Miles begins his own internal investigation, to the dismay of his colleagues and even his wife. Then Miles is sent to Belfast to oversee the arrest of two suspected terrorists, a supposedly routine mission that only strengthens his darkest suspicions. Has the Director issued Miles his final assignment?

Determined to discover the truth, Miles enters a dangerous world he normally only observes–even as it threatens his life at every turn. With the riveting suspense and razor-sharp dialogue that have made him an internationally renowned bestseller, Ian Rankin examines an ordinary man forced into extraordinary circumstances, and proves why he "just keeps getting better and better" (Michele Ross, Cleveland Plain Dealer ).