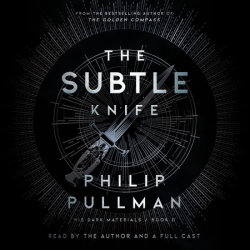 His Dark Materials: The Subtle Knife (Book 2)
Imprint: Listening Library
Grades: Grade 5 & Up
Ages: 10 and up
Release Date: August 15, 2006
8 Hours and 55 Minutes
List Price: $40
ISBN: 9780807204726
Categories:
Juvenile Fiction - Fantasy & Magic, Juvenile Fiction - Action & Adventure - General, Juvenile Fiction - People & Places - Europe
Tags:
fantasy, young adult, religion, ya, adventure, science fiction, children's, magic, children, steampunk, trilogy, children's literature, alternate universe, british, parallel worlds, england, children's fiction, philip pullman, coming of age, witches, kids, alternate worlds, juvenile, 20th century, young adult fiction, friendship, teen, sff, alternate history, atheism
Read by the author and a full cast
8 hours 55 minutes, 8 CDs

The universe has broken wide, and Lyra's friend lies dead. Desperate for answers and set on revenge, Lyra bursts into a new world in pursuit of his killer. Instead, she finds Will, just twelve years old and already a murderer himself. He's on a quest as fierce as Lyra's, and together they strike out into this sunlit otherworld.

On this journey marked by danger, Will and Lyra forge ahead. But with every step and each new horror, they move closer to the greatest threat of all—and the shattering truth of their own destiny.

In this stunning sequel to The Golden Compas, Philip Pullman continues His Dark Materials trilogy and confirms it as an undoubted and enduring classic.

AWARDS AND HONORS
ALA Best Books for Young Adults
Publishers Weekly Best Book of the Year
Horn Book Fanfare Honor Book
Bulletin of the Center for Children's Books
Blue Ribbon Book
Book Links Best Book of the Year
Parents' Choice Gold Book Award
American Bookseller "Pick of the Lists"