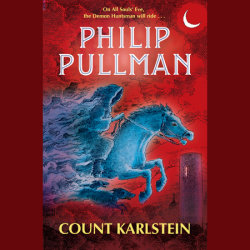 Count Karlstein
Imprint: Listening Library
Grades: Grades 3-7
Ages: 8-12 years
Release Date: November 17, 2020
5 Hours and 9 Minutes
List Price: $45
ISBN: 9780593398708
Can you hear the distant howling of hounds and the thunder of ghostly hooves? It's All Souls' Eve and Zamiel the Demon Huntsman has come to claim his prey! He's headed straight for Castle Karlstein, where the evil count has hatched an evil plan; he'll sacrifice his two young nieces to save himself. Can Lucy and Charlotte outwit their uncle and his oily henchmen to escape their dreadful fate? From the award-winning author of The Golden Compass and The Subtle Knife comes a spooky, funny thriller just right for those middle-grade readers looking for horror--and humor.  

Artwork illustrations © Peter Bailey, 2018
Cover and text design @ Puffin
Published by arrangement with Random House Children's Publishers UK, a division of The Random House Group Limited.