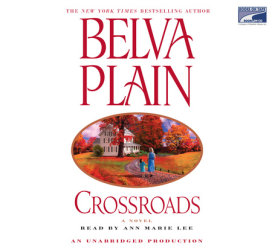 BOT Exclusive
Crossroads
Imprint: Books on Tape
Genre: Fiction - Women

Release Date: November 25, 2008
9 Hours and 36 Minutes
List Price: $85.50
ISBN: 9781415939475
No one explores the rich tapestry of the human heart as Belva Plain does. Her more than twenty New York Times bestsellers have captivated readers and garnered legions of devoted fans. Now Plain dazzles us once again with a new novel of rare eloquence and raw emotion…a powerful tale about the consequences of greed—and the acts of love and forgiveness that can heal the heart.

Cassie Wright never saw it coming. As owner of Wright Glassworks, the foremost company in a thriving New England town, Cassie's life was quiet, focused on her work and home…until a tragic accident turns her carefully ordered world upside down. For there is a surviving child to think about—and Cassie must take in one-year-old Gwen, who has no one else to care for her. As the years pass, Cassie will raise Gwen as her own, and a little girl who lost everything will flourish in a world of privilege and opportunity.

Enter Jewel Fairbanks. Beautiful and conniving, Jewel will touch the lives of both Cassie and Gwen in powerful ways. From the moment they meet, Jewel envies Gwen, who seems to have everything Jewel wants. The two couldn't be more different, but their lives will soon become inextricably intertwined. Both will marry—but to profoundly different men. For Gwen, it is honest, hardworking Stan who steals her heart; Jewel will set her sights on Jeff, a shrewd businessman who owns the company where Stan works.

But when Stan makes a shocking discovery on the job, relationships begin to shift and change...and soon a tangled drama of greed, jealousy, and betrayal will encircle both couples, as a chain reaction of unexpected events changes four lives forever—in ways they never could have foreseen….