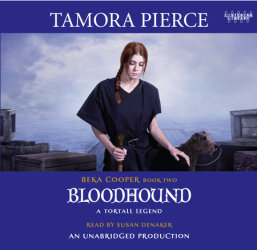 Bloodhound
The Legend of Beka Cooper #2
Imprint: Listening Library
Grades: Grade 7 & Up
Ages: 12 and up
Release Date: April 28, 2009
18 Hours and 7 Minutes
List Price: $68
ISBN: 9780739364215
Beka Cooper is no longer a Puppy. She's a Dog now–a full-fledged member of the Provost's Guard, which keeps the peace in Corus's streets. Beka's natural skills of observation and tenacity are augmented by her unusual magical talents. But even her magic isn't very useful when unrest comes to Tortall's capital in the form of counterfeit coins, which turn up in shops all over the city.
The Dogs discover that gamblers are bringing the counterfeits from Port Caynn–and that the Port Caynn Dogs don't seem to be doing anything about it. Beka and her mentor, Clary Goodwin, are chosen to go undercover in Port Caynn and find out what they can. Departing from Corus with her are the scent hound Achoo, who has been newly assigned to Beka, and the pigeon Slapper, who carries the voices of the dead.
In Port Caynn, Beka and Goodwin delve deep into the gambling world. There Beka meets a charming bank courier, who may be involved in the counterfeiting ring. Things come to a head just as Goodwin returns home to report to Corus. It won't be enough for Beka to be her usual "terrier" self. She'll have to learn from Achoo to sniff out the criminals–to be a bloodhound.