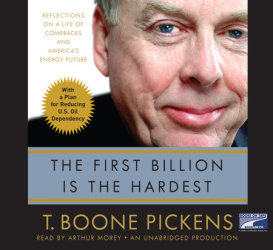 BOT Exclusive
The First Billion is the Hardest
Reflections on a Life of Comebacks and America's Energy Future
Imprint: Books on Tape
Genre: Biography & Autobiography - Business

Release Date: September 23, 2008
8 Hours and 8 Minutes
List Price: $85.50
ISBN: 9781415949566
Now eighty years old, T. Boone Pickens is a legendary figure in the business world. Known as the "Oracle of Oil," he built Mesa Petroleum, one of the largest independent oil companies in the United States. When Pickens left Mesa after a downward spiral in the company's profits, many counted him out.  What followed for him was the loss of 90 percent of his investing capital. But Pickens was far from out.

He went on to stage one of the most impressive comebacks in the industry, turning his investment fund's remaining $3 million into $8 billion. That made him, at age seventy-seven, the world's second-highest-paid hedge fund manager. Today, Pickens is making some of the world's most colossal energy bets.

In this audiobook, Pickens not only presents a comprehensive plan for American energy independence but also provides a fascinating glimpse into key resources. The First Billion Is the Hardest is both a riveting account of a life spent pulling off improbable triumphs and a report back from the front of the global energy and natural-resource wars.