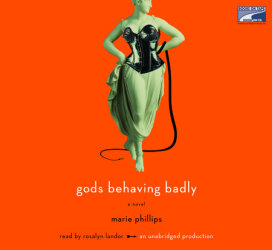 BOT Exclusive
Gods Behaving Badly
Imprint: Books on Tape
Genre: Fiction - Humorous - General

Release Date: December 11, 2007
9 Hours and 17 Minutes
List Price: $66.50
ISBN: 9781415947425
Being immortal is not all it once was. Yes, the twelve Greek gods of Olympus are alive and well in the twenty-first century, but they are crammed together in a London town house–and are none too happy about it. Even more disturbing, their powers are waning.

For Artemis (goddess of hunting, professional dog walker), Aphrodite (goddess of beauty, telephone sex operator), and Apollo (god of the sun, TV psychic), there's no way out–until a meek cleaner, Alice, and her would-be boyfriend, Neil, turn their world literally upside down. When what begins as a minor squabble between Aphrodite and Apollo escalates into an epic battle of wills, Alice and Neil are caught in the cross fire, and they must fear not only for their own lives, but for the survival of humankind. Nothing less than a true act of heroism is needed–but can these two decidedly ordinary people replicate the feats of the mythical heroes and save the world?

GODS BEHAVING BADLY is that rare thing: a charming, funny, utterly original first novel that satisfies the head and the heart.