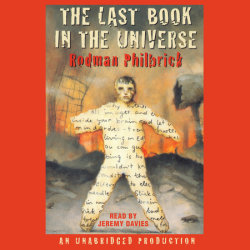 BOT Exclusive
The Last Book in the Universe
Imprint: Listening Library
Grades: Grade 5 & Up
Ages: 10 and up
Release Date: February 24, 2009
4 Hours and 25 Minutes
List Price: $38
ISBN: 9780739380895
In this fast-paced story filled with drama and suspense, master storyteller Rodman Philbrick presents a dangerous future world and a young hero who embarks on a terrifying quest. They call him Spaz because his epilepsy prevents him from using mind probes that are rotting everyone else's minds. Which is why he still has a memory–something rare in the frightening world he lives in.

Civilization has been destroyed, except for the forbidden place called Eden, where a small group of people have discovered genetic improvement. Yet one old man, the one they call Ryter, has a lot of crazy, wonderful ideas. Nobody remembers books anymore, but Ryter is writing one–even as he's about to be busted down and knows he may be captured by gangs and dragged to a horrible death.

Both chilling and inspiring, the story is ultimately about those who have the courage to become conscious in a world that instead invites us to choose illusion and denial. Here is a powerful tale of love, loss, and the challenges we all face to make thoughtful, moral choices.