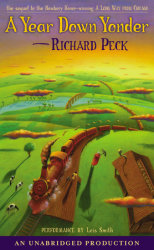 A Year Down Yonder
Imprint: Listening Library
Grades: Grade 5 & Up
Ages: 10 and up
Release Date: October 17, 2006
3 Hours and 25 Minutes
List Price: $14.99
ISBN: 9781400084968
Categories:
Juvenile Fiction - Family - General (See Also Headings Under Social Themes), Juvenile Fiction - Lifestyles - Country Life, Juvenile Fiction - Humorous Stories
Tags:
historical fiction, great depression, illinois, family, humor, grandmothers, ya, country life, young adult, children's, juvenile fiction, depression, realistic fiction, historical, grandparents, children, children's literature, juvenile, grandmother, 1930s, funny, small town, adventure, school, award winner, children's fiction, coming of age, rural life, chicago, middle grade
Mary Alice and Grandma Dowdel return for more astonishing, laugh-out-loud adventures when fifteen-year-old Mary Alice moves in with her spicy grandmother for the year. Her extended visit is filled with moonlit schemes, romances both foiled and founded, and a whole parade of fools made to suffer in unusual (and always hilarious) ways.

Wise, exuberant, and slyly heartwarming, Mary Alice's story is a fully satisfying companion to the celebrated A Long Way from Chicago.