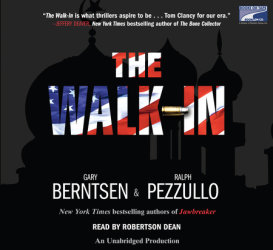 The Walk-In
A Novel
Imprint: Books on Tape
Genre: Fiction - Thrillers - Suspense

Release Date: August 26, 2008
8 Hours and 41 Minutes
List Price: $85.50
ISBN: 9781415957561
Gary Berntsen, longtime CIA operative and the field commander who cornered Osama Bin Laden in Afghanistan, writing with award-winning novelist Ralph Pezzullo, offers in this edge-of-the-seat thriller a terrifying vision of where the next threat to America may come from.

When a highly placed Iranian intelligence operative walks into a U.S. embassy claiming to possess explosive information, counterterrorism officer Matt Freed is dispatched to interview him and is warned of an impending attack on the United States that could kill millions. But is the man's story precious truth or calculated fiction? Matt isn't sure, but with a possible catastrophe looming in less than two weeks, his superiors reluctantly prepare for the assault.

Matt can't leave it alone, though. With questions still lingering about what is really going on, he defies his superiors' orders and launches his own investigation. As the clock ticks down, he searches frantically for the truth at an Afghan prison under siege, an abandoned Uzbekistan bio weapons facility, and a Moscow hospital where an arms dealer is dying of a mysterious disease.

Ultimately, Matt's efforts brand him an out-of-control renegade, and he finds himself left out in the cold. Yet he may be the only one with the knowledge needed to avert unimaginable chaos.

From a counterterrorism warrior who has spent a lifetime thwarting those who would do us harm, The Walk-In is an exhilarating plunge into tradecraft and terror.