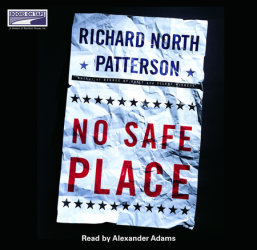 No Safe Place
Imprint: Books on Tape
Genre: Fiction - Thrillers - Political

Release Date: February 05, 2008
17 Hours and 50 Minutes
List Price: $95
ISBN: 9781415950517
In his first book since the national best-seller Silent Witness, Richard North Patterson uses his mastery of characterization and suspense to give us a story of startling realism and originality--an extraordinary novel of presidential politics.
        In the year 2000, Senator Kerry Kilcannon's insurgent campaign against Vice President Dick Mason has come down to the last seven days--the time remaining until the California presidential primary. Whoever wins in California is likely to win the Democratic nomination, a prize that the Vice President is determined to deny Kerry at any cost. And for all the votes and enthusiasm his passion and personal magnetism have gained him, Kerry's problems are formidable.
        He is haunted by the tragedy of his older brother, James, a presidential candidate who was assassinated in California twelve years earlier. Kerry has stumbled in his advocacy of abortion rights, and a right-to-life fanatic has pushed this explosive issue to the forefront by murdering three people at a women's clinic. In addition, a journalist for a national newsmagazine is striving to verify the lethal story that, two years ago, while still married, Kerry had a secret love affair with Lara Costello, a reporter assigned to him on Capitol Hill. And now, even more threatening, Kerry is being stalked by the abortion-clinic murderer himself.
        This narrative is seamlessly interwoven with scenes from Kerry's past: his youth as the son of a drunken and abusive father; his self-image as the less-gifted younger brother of a brilliant yet distant senator; his reluctant ascension to his brother's place; his poignant romance with Lara Costello. And when Lara is ordered against her will to cover Kerry in California, he is forced once more to evaluate his life, and the terrible cost of his ambition to become President of the United States.
        With rare authenticity, Richard North Patterson depicts the world of high-stakes presidential politics on the verge of an explosion that is as dramatic as it is thought-provoking. But No Safe Place is also a story of people at their best and at their worst: their passions, their ideals, their flaws. A novel that will hold the reader enthralled from the first to the last sentence.