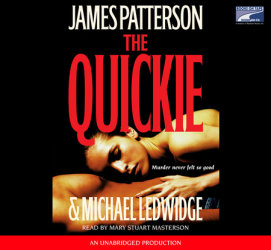 The Quickie
Imprint: Books on Tape
Genre: Fiction - Thrillers - General

Release Date: July 03, 2007
6 Hours and 11 Minutes
List Price: $57
ISBN: 9781415942055
James Patterson's steamiest summer thriller yet starts with a one-night stand gone terribly wrong. . . .

When she sees her husband with another woman, Lauren Stillwell's heart nearly stops beating. Their marriage is perfect, she has a great job, she loves her life. But his betrayal turns her into someone she never imagined she could be – a woman lusting for revenge.

It was supposed to be a quickie, a way to even the score. But Lauren's night of passion takes a shocking turn when she witnesses an unexpected, unbelievable, deadly crime. Her horrifying secret threatens to tear her life apart, pitting her need to uncover the truth against her fear that the truth may be too horrible to bear. And whichever choice she makes could cost her dearly – her job, her marriage, even her life.

From the man USA Today has called the "master of the genre" comes his steamiest, scariest novel since the #1 bestseller Honeymoon. THE QUICKIE is a twisting story of desires, secrets, and consequences that will have your heart pounding until the very last moment.