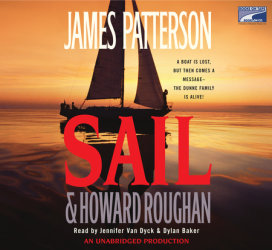 Sail
Imprint: Books on Tape
Genre: Fiction - Mystery & Detective - General

Release Date: June 24, 2008
7 Hours and 50 Minutes
List Price: $76
ISBN: 9781415954287
Set sail.
Barely out of sight of land, the Dunne family finds its summer getaway to paradise already turning into the trip from hell. Carrie, the eldest, has thrown herself off the side of the boat in a bid for attention. Sixteen-year-old Mark is getting high belowdecks. And Ernie, their ten-year-old brother, is nearly catatonic. It's shaping up to be the worst vacation ever.

Soak up the sun.
Katherine Dunne had hoped this trip would bring back the togetherness they'd lost when
her husband died four years earlier. Maybe if her new husband, a high-powered Manhattan attorney, had been able to postpone his trial and join them it would all have been okay....

Prepare to die.
Suddenly, a disaster hits–and it's perfect. Faced with real danger, the Dunnes rediscover the meaning of family and pull together in a way they haven't in a long time. But this catastrophe is just a tiny taste of the danger that lurks ahead: someone wants to make sure that the Dunne family never makes it out of paradise alive.

With whiplash plot twists, speedboat pacing, and an eye for the evil that can lie behind even the most gorgeous setting, James Patterson delivers Sail–the wettest, most explosive ocean adventure since Jaws.