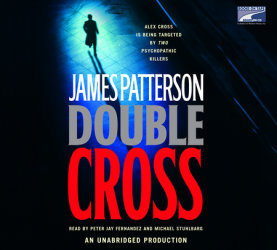 Double Cross
Imprint: Books on Tape
Genre: Fiction - Thrillers - General

Release Date: November 13, 2007
8 Hours and 7 Minutes
List Price: $66.50
ISBN: 9781415942086
Alex Cross rejoins the DC police force to confront two of the most diabolical killers he's ever encountered.

A psychotic killer who craves an audience

Just when Alex Cross's life is calming down, he is drawn back into the game to confront a criminal mastermind like no other. The elaborate murders that have stunned Washington, DC, are the wildest that Alex Cross and his new girlfriend, Detective Brianna Stone, have ever seen.

And a murdering mastermind who works alone

And in Colorado, another criminal mastermind is planning a triumphant return. From his super-maximum-security prison cell, Kyle Craig has plotted for years to have one chance at an impossible escape.

Both are after the same detective–Alex Cross

From the author Time magazine has called "the man who can't miss," DOUBLE CROSS has the pulse-racing momentum and electrifying thrills that have made James Patterson a #1 bestselling storyteller all over the world.