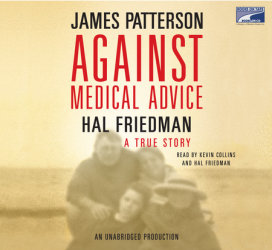 Against Medical Advice
Imprint: Books on Tape
Genre: Biography & Autobiography - Medical (incl. Patients)

Release Date: October 21, 2008
5 Hours and 14 Minutes
List Price: $76
ISBN: 9781415954225
"Against Medical Advice is both harrowing and heartbreaking, but is also a story of astonishing courage. This book stands as a testament to the amazing power of one family's unconditional love for one another."
–Tess Gerritsen, author of The Bone Garden

One morning when he was almost five years old, Cory Friedman woke up with the uncontrollable urge to shake his head. From that day forward his life became an agony of irrepressible tics and involuntary utterances. Cory embarked on a thirteen-year odyssey of medication upon medication, treatment upon treatment–a constantly changing regimen that left him and his family feeling like guinea pigs in an out-of-control experiment. It soon became unclear which tics were symptoms of his condition and which were side effects of the countless combinations of drugs. The only certainty was that it kept getting worse. Simply put: Cory Friedman's life was a living hell.

Subjected to debilitating treatments and continuous ridicule, Cory became devastatingly aware of how he appeared to others. With the love of his family and the support of a few steadfast teachers and medical professionals, he fought for his very life, and you will cheer his amazing successes.

Against Medical Advice is the true story of Cory's battle for survival in the face of extraordinary difficulties and a sometimes maddening medical establishment. Written by James Patterson and Cory's father, Hal, with the relentless pace of a Patterson thriller, this is a heartrending story of one family's courage, determination, and ultimate triumph.