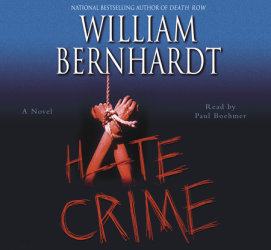 Hate Crime
Imprint: Books on Tape
Genre: Fiction - Thrillers - Political

Release Date: October 24, 2006
12 Hours and 44 Minutes
List Price: $91.20
ISBN: 9780739353509
Bestselling author William Bernhardt is an unsurpassed master at blending psychological suspense with gripping, surprise-filled legal action. Now, Bernhardt and his crusading attorney Ben Kincaid return in a thrilling story of love, hate, and the power of a courtroom to separate deception from the truth.

In Tulsa, Ben Kincaid has built a national reputation as a stalwart defense attorney who will fight tirelessly for his clients. In Evanston, Illinois, Johnny Christensen has built a national reputation as a sadistic bigot who beat and stabbed a gay man and left him to die. When Johnny's mother comes to Ben and begs him to defend her son, he has one secret reason for saying no.

But while Ben turns down the case, his younger, beautiful partner, Christina McCall, does not. Traveling to Chicago and facing an explosion of controversy and deadly violence surrounding the trial, Christina steps into a case that is already nearly lost. Her client's only defense is his claim that he left his victim bludgeoned but alive. To prove that someone else committed the actual murder, Christina needs a little bit of evidence—and a good motive to go with it.

When unforeseen circumstances force Ben Kincaid to enter the trial, the defense attorney sees only one way to prove Johnny's innocence. But Ben's plan means luring a killer out of the woodwork—even though he may kill again. . . .

A novel of gut-wrenching twists and surprises, this thriller brilliantly explores the passions between lovers—and the passions behind society's most heinous crimes. Once again, the remarkable William Bernhardt makes us challenge every assumption, second-guess every judgment, and feel the terror of the truth.