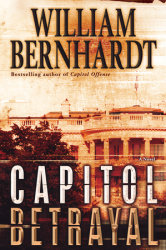 Capitol Betrayal
A Novel
Imprint: Books on Tape
Genre: Fiction - Thrillers - General

Release Date: October 05, 2010
11 Hours and 35 Minutes
List Price: $95
ISBN: 9780307876850
William Bernhardt's bestselling novels explore politics, power, ambition, crime, and the law. Now he scales new heights of suspense as, in one harrowing day, lawyer and former senator Ben Kincaid enters the eye of an international storm, a crisis with consequences beyond calculation.

Kincaid is in a meeting with the president in the Oval Office when Washington suddenly explodes into chaos. Facing an imminent threat to the White House, Kincaid is whisked, along with the president and his advisors, to the underground PEOC—Presidential Emergency Operations Center—built to withstand a nuclear blast, but vulnerable to another kind of attack.

Inside the bunker, defense specialists realize that a malevolent foreign dictator has hacked into the U.S. nuclear defense system and now has a finger on the trigger of America's most dangerous weapons. The dictator's message is clear: Heed his demands or suffer unfathomable destruction.

Forced to make critical, split-second decisions, the president seems to be falling apart under the pressure. The vice president wants to strip him of his powers—a move that could have a disastrous impact on national defense. But even during this time of upheaval, in order for the president to be removed, there must be a trial. With the clock winding down, Kincaid has precious little time to defend the president.
 
While Kincaid faces the trial of his life, legendary CIA agent Seamus McKay races through the clogged streets of Washington, searching for a hidden command center—guarded by murderous fanatics—that now controls U.S. ballistic missiles.

Two sides of one unforgettable story, McKay and Kincaid home in on their targets. One uses a gun—and any weapon he can get his hands on; the other employs his intuition and the law. And in William Bernhardt's spectacular thriller, as both move closer and closer to uncovering a world-shattering plot, the ultimate act of betrayal is launched from the heart of America's capitol itself.