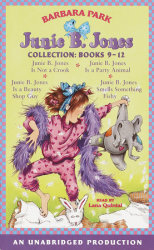 Junie B. Jones Collection Books 9-12
#9 JBJ Is Not a Crook; #10 JBJ Is a Party Animal; #11 JBJ Is a Beauty Shop Guy; #12 JBJ Smells Something Fishy
Imprint: Listening Library
Grades: Preschool - 3
Ages: 4-8 years
Release Date: October 17, 2006
3 Hours and 36 Minutes
List Price: $25.50
ISBN: 9780739330388
The world's funniest kindergartner is back with four more silly escapades in one audiobook.

Junie B. Jones Is Not a Crook
Someone has taken Junie B.'s new black furry mittens! And they kept them! So when Junie B. finds a wonderful pen, she should be allowed to keep it, too. Right?

Junie B. Jones Is a Party Animal
Lucille is having a slumber party at her nanna's big giant house! For Grace and Junie B., sleeping at nanna's is a dream come true! What could possibly go wrong?

Juine B. Jones Is a Beauty Shop Guy
Is Junie B. on her way to a great new career as a beauty shop guy? Or is she about to have the worst hair day ever?

Junie B. Jones Smells Something Fishy
It's pet day at school. No dogs allowed! And that's the only kind of pet Junie B. has. SHe'll just have to find a new pet. Like maybe a jar of ants. Or a wiggly worm. Or—could it be—something even better?