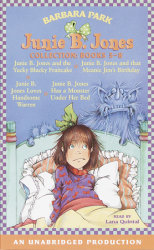 Junie B. Jones Collection Books 5-8
#5 JBJ and the Yucky Blucky Fruitcake; #6 JBJ and That Meanie Jim's Birthday; #7 JBJ Loves Handsome Warren; #8 JBJ Has a Monster Under Her Bed
Imprint: Listening Library
Grades: Grades 1-4
Ages: 6-9 years
Release Date: June 27, 2006
3 Hours and 3 Minutes
List Price: $25.50
ISBN: 9780739344460
Read by Lana Quintal
approx. 2 hours
2 cassettes

What kind of mess has Junie B. Jones gotten herself into this time? Listen to four Junie b. Jones favorites in one audiobook collection.
In Junie B. Jones and the Yucky Blucky Fruitcake, Junie B. wins the Carnival Night Cake Walk and chooses the bestest cake of all. How was she to know it was lethal weapon?
Guess who's NOT invited to Jim's birthday party in Junie B. Jones and that Meanie Jim's Birthday.
In Junie B. Jones Loves Handsome Warren, Junie has tofigure out how she can get the handomest guy she's ever seen to love her.
In Juine B. Jones Has a Monster Under Her Bed, Junie worries that Paulie Allen Puffer is right and she really does have monster under her bed.