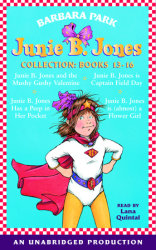 Junie B. Jones Collection Books 13-16
#13 JBJ Is (Almost) a Flower Girl; #14 JBJ and the Mushy Gushy Valentine; #15 JBJ Has a Peep in Her Pocket; #16 JBJ Is Captain Field Day
Imprint: Listening Library
Grades: Preschool - 3
Ages: 4-8 years
Release Date: October 17, 2006
3 Hours and 36 Minutes
List Price: $25.50
ISBN: 9780739353493
Read by Lana Quintal
Approx. 2.5 hours
2 cassettes

Available now for the first time on audio—four Junie B. Jones stories in one collection brings four times the laughs!

Includes:
Junie B. Jones is (almost) a Flower Girl
Junie B. is tired of everyone treating her like a baby. Too bad she wasn't picked to be flower girl at her aunt Flo's wedding. Then she could really show everyone how grown-up she is. But surely she can still find some way to get everyone's attention!

Junie B. Jones and the Mushy Gushy Valentine
Junie B. gets a big, mushy Valentine's Day card from a secret admirer! Who is this secret mystery guy, anyway? Junie B. is determined to find out!

Junie B. Jones Has a Peep in Her Pocket
When Junie B.'s homeroom takes an end of year field trip to a farm, everyone is excited—except Junie B. Jones. Farms have scary ponies and scary roosters. Will there be anything good about this place or will this be the "worstest " field trip ever?


Junie B. Jones is Captain Field Day
Afternoon kindergarten is having a field day, and Junie B. Jones is team captain! As Captain Field Day, it's up to Junie B. to stop room eight from winning the championship. Will Junie B. find a way to lead her team to victory? Or will someone else save the day?