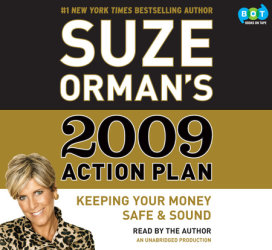 Suze Orman's 2009 Action Plan
Imprint: Books on Tape
Genre: Business & Economics - Personal Finance - Investing

Release Date: December 30, 2008
4 Hours and 57 Minutes
List Price: $28.50
ISBN: 9781415964514
The credit crunch, the stock market freefall, the staggering toll of home foreclosures and job losses: The economic crisis that struck in 2008 has left no one untouched and everybody reeling. Suddenly you have all kinds of questions: Are your savings safe? Should you continue to invest in your retirement account? Should you keep your home if it's worth less than what you owe or should you sell it? How do you pay your bills if you've just been laid off?

The nation's go-to expert on financial matters, Suze Orman, believes that 2009 is a critical year for your money. There are safeguards to put in place, actions to take, costly mistakes to avoid, and even opportunities to be had, so that you are protected during the bad times and prepared to prosper when things take a turn for the better. No matter what situation you're in, you will find a plan of action and the answers to your questions.

Suze Orman's 2009 Action Plan delivers honest, straightforward guidance, what to do, when to do it, and how to do it as only Suze Orman can.