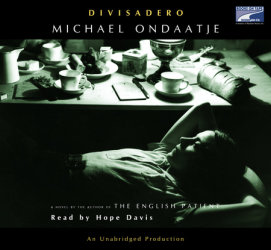 Divisadero
Imprint: Books on Tape
Genre: Fiction - Literary

Release Date: May 29, 2007
8 Hours
List Price: $85.50
ISBN: 9781415938836
Northern California, 1970s. A father and his teenage daughters, Anna and Claire, work their farm with the help of Coop, an enigmatic young man who makes his home with them. Theirs is a makeshift family, until it is riven by an incident of violence that sets fire to the rest of their lives.

DIVISADERO takes us from the city of San Francisco to the raucous backrooms of Nevada's casinos and eventually to the landscape of south-central France. As the narrative moves back and forth in time and place, we discover each of the characters managing to find some foothold in a present rough-hewn from the past.

Breathtakingly evoked and with unforgettable characters, DIVISADERO is a multilayered novel about passion, loss, and the unshakable past, about the often discordant demands of family, love, and memory. It is Michael Ondaatje's most intimate and beautiful novel to date.