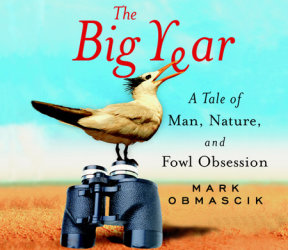 BOT Exclusive
The Big Year
A Tale of Man, Nature, and Fowl Obsession
Imprint: Books on Tape
Genre: Nature - Birdwatching Guides

Release Date: February 19, 2008
9 Hours and 55 Minutes
List Price: $85.50
ISBN: 9781415953099
A classic in the making -- an account of the biggest year in birdwatching history.

In the USA, some 50 million people lay claim to being bird-watchers or "birders," spending billions of dollars on birding-related travel and membership fees every year. A select, and utterly obsessed, few compete in one of the world's quirkiest contests -- the race to spot the most species in North America in a single year. And 1998 wasn't just a big year. It was the biggest. The Big Year is Pulitzer Prize-winner Mark Obmascik's account of what was to become the greatest birding year of all time.

It was freak weather conditions that ensured all previous records were broken, but what becomes clear within the pages of this classic portrait of obsession is that while our feathered friends may be the objective of the Big Year competition, it's the curious activities and behavioural patterns of the pursuing "homo sapiens" that are the real cause for concern. It is a contest that reveals much of the human character in extremes. Such are the author's powers of observation that he brilliantly brings to life and gets under the skin of these extraordinary, eccentric and obsessive birders while empathizing with and eventually succumbing to the all-consuming nature of their obsession. The result is a wonderfully funny, acutely observed classic to rank alongside the best of Bill Bryson.