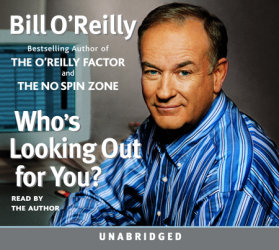 Who's Looking Out For You?
Imprint: Books on Tape
Genre: Political Science - American Government - General

Release Date: January 29, 2008
5 Hours and 32 Minutes
List Price: $57
ISBN: 9781415951699
Media powerhouse and expert critic Bill O'Reilly's most comprehensive book yet offers new insight into the current state of life in America. In examining the social, political, and economic aspects of our daily lives, O'Reilly exhausts every bureaucratic system to see what our higher-ups are doing to take care of us, and points out the people and institutions who are failing the average American. At the same time, he makes one of his most profound and daring journeys yet, as he ventures to question how much genuine altruism is left in a society that thrives on a competitive, increasingly self-indulgent ethos. With thoughtfulness and candor, O'Reilly targets our biggest problems, and offers sage advice on how to regain control and trust in these troubled times.