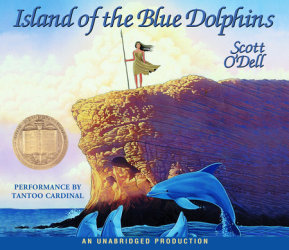 Island of the Blue Dolphins
Imprint: Listening Library
Grades: Grades 2-5
Ages: 7-10 years
Release Date: October 10, 2006
3 Hours and 41 Minutes
List Price: $19.95
ISBN: 9780307243164
Categories:
Juvenile Fiction - Historical - United States - 19th Century, Juvenile Fiction - Biographical - United States, Juvenile Fiction - People & Places - United States - Native American
Tags:
survival, historical fiction, adventure, young adult, native americans, children's, native american, ya, children, classic, california, island, children's literature, classics, dolphins, juvenile, animals, historical, islands, realistic fiction, children's fiction, juvenile fiction, literature, coming of age, childhood, indians, kids, youth, dogs, history
In the Pacific there is an island that looks like a big fish sunning itself in the sea.  Around it, blue dolphins swim, otters play, and sea elephants and sea birds abound.  Once, Indians also lived on the island.  And when they left and sailed to the east, one young girl was left behind.



This is the story of Karana, the Indian girl who lived alone for years on the Island of the Blue Dolphins.  Year after year, she watched one season pass into another and waited for a ship to take her away.  But while she waited, she kept herself alive by building a shelter, making weapons, finding food, and fighting her enemies, the wild dogs.  It is not only an unusual adventure of survival, but also a tale of natural beauty and personal discovery.