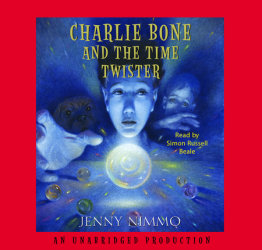 BOT Exclusive
Charlie Bone and the Time Twister
Imprint: Listening Library
Grades: Grades 4-7
Ages: 9-12 years
Release Date: October 17, 2006
6 Hours and 41 Minutes
List Price: $50
ISBN: 9780307245663
Categories:
Juvenile Fiction - Fantasy & Magic, Juvenile Fiction - Science Fiction - Time Travel, Juvenile Fiction - Action & Adventure - General
Tags:
fantasy, magic, charlie bone, adventure, young adult, mystery, children of the red king, time travel, children's, boarding school, children, school, ya, england, youth, family, kids, teen, powers, juvenile, juvenile fiction, british, children's book, jenny nimmo, friends
Charlie Bone is on his way to class at the Bloor's Academy on one of the coldest days of the year when he stops and notices something strange happening in the empty hall in front of him. Suddenly, Henry Yewbeam, a boy from 1916 appears out of nowhere. Soon Charlie and his friend, Gabriel Silk, are working to keep Henry hidden from the teachers at Bloor's. But will Henry ever return to the year 1916 and to his brother who is searching for him there?