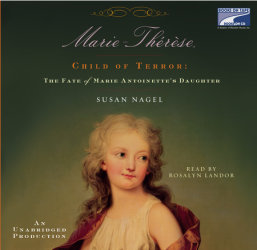 BOT Exclusive
Marie Therese, Child of Terror
The Fate of Marie Antoinette's Daughter
Imprint: Books on Tape
Genre: Biography & Autobiography - Royalty

Release Date: March 18, 2008
18 Hours and 15 Minutes
List Price: $95
ISBN: 9781415945193
In December 1795, on the midnight stroke of her seventeenth birthday, Marie-Thérèse, the only surviving child of Marie Antoinette and Louis XVI, fled Paris's notorious Temple Prison. Kept in solitary confinement after her parents' brutal execution during the Terror, she had been unaware of the fate of her family, save the cries she heard of her young brother being tortured in an adjacent cell.
 
She emerged to an uncertain future: an orphan, exile, and focus of political plots and marriage schemes of the crowned heads of Europe. Throughout, she remained stubbornly loyal to France and to the Bourbon dynasty of which she was part. However, the horrors she had witnessed and been a victim to would haunt her for the rest of her life.

Many believe to this day that the traumatized princess was switched with her "half-sister" and spirited away to live as "the Dark Countess," leaving the impostor to play her role on the political stage of Europe. Now, two hundred years later, using handwriting samples, DNA testing, and a cache of Bourbon family letters, Susan Nagel finally solves this mystery.

Nagel tells a remarkable story of an astonishing woman, from her birth, to her upbringing by doting parents, through to Revolution, imprisonment, exile, Restoration, and, finally, her reincarnation as saint and matriarch.