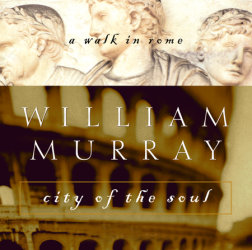 BOT Exclusive
City of the Soul
A Walk in Rome
Imprint: Books on Tape
Genre: Travel - Essays & Travelogues

Release Date: February 26, 2008
2 Hours and 35 Minutes
List Price: $38
ISBN: 9781415953075
"One lifetime is not enough for Rome," the famous saying goes, and anyone who's ever been there knows these words to be true. In City of the Soul, William Murray begins to show us why.

Growing up in Rome and spending much of his life in the city, William Murray is an expert guide as he takes us on an intimate walking tour of some of Rome's most glorious achievements, illuminating the history and the mythology that define the city. Murray leads us through the centro, the city's historic downtown center. He writes about the Villa Borghese, the Piazza di Spagna, and the Trevi Fountain and describes such singular attractions as the Capuchin Church of Santa Maria della Concezione, whose macabre crypt has impressed visitors from Mark Twain to the Marquis de Sade.

As he walks, he reveals stories that only a longtime resident would know, capturing the sights, sounds, and flavors that make Rome a combination of the deep past and the ever-sensual present.