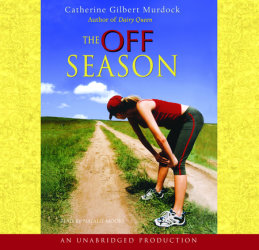 The Off Season
Imprint: Listening Library
Grades: Grade 7 & Up
Ages: 12 and up
Release Date: May 22, 2007
6 Hours
List Price: $38.25
ISBN: 9780739351079
Life is looking UP for D.J. Schwenk. She's made it to eleventh grade, finally. After a rocky summer, she's reconnecting with her best friend, Amber. She's got kind of a thing going with Brian Nelson. Plus there's the fact that she's playing for the Red Bend High School football team as probably the first girl linebacker in northern Wisconsin.

But then the season, which began so well, starts to go suddenly, horribly wrong. As autumn progresses, D.J. struggles to understand what's happening with football, Brian, Amber, and most of all her family. And as her life turns completely upside down, she discovers she's a lot stronger than she–or anyone–ever thought.

This hilarious, heartbreaking, and ultimately triumphant sequel to the acclaimed novel Dairy Queen takes D.J. and all the Schwenks from Labor Day to a Thanksgiving football game that you will never forget.